AdelCo Home Services is here with great news for you that we have now built a relationship with the AIR MILES® Reward Program to offer extra benefits of traveling along with the cleaning services. The clients are the first priority for us and our team. We always look to providing some extra benefits to you!
How to Get AIR MILES® Reward Miles With AdelCo Home Services?
AdelCo Home Services is providing you a chance to get AIR MILES® Reward Miles by availing the best-in-class cleaning services. We offer 300 Reward Miles whenever you spent $1,500+ excluding taxes. Just grab this chance to get more Reward Miles. Our services include –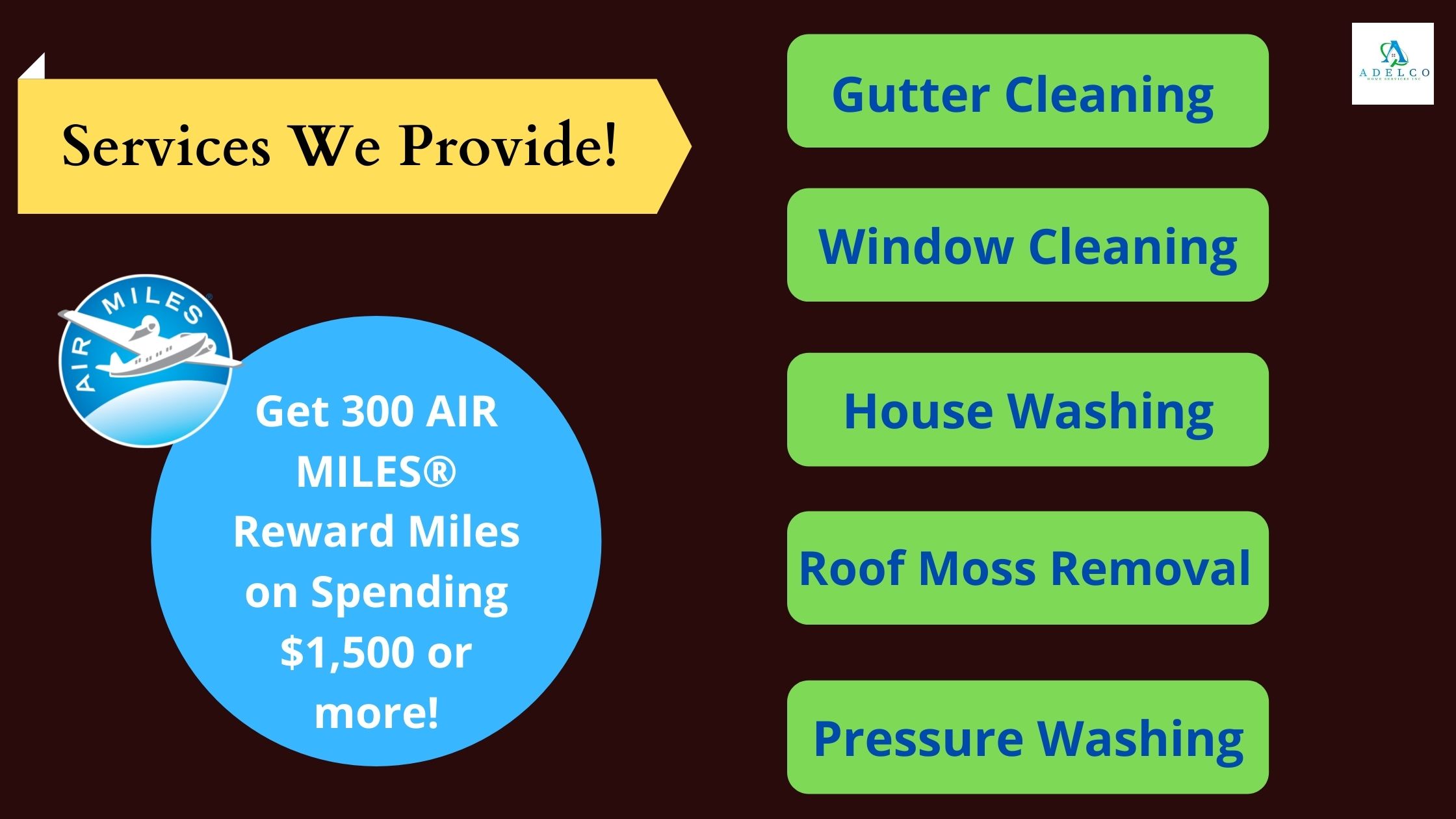 1) Gutter Cleaning Service
Gutters are the most important part of the house which requires regular attention and cleaning. They can make your house filled up with dirty water and even leads to roof leaking. Our professional team will make your clogged gutters clean and free from debris and leaves this will save you from the damage that costs you a lot. So, it's better to prevent than cure after the damage done. We provide residential and commercial gutter cleaning in North Vancouver, Vancouver, Burnaby, Tri-Cities, and areas near Fraser-Valley.
2) Window Cleaning Service
Your busy life doesn't allow you to spare some time for window cleaning regularly. You can see those smudges and dirt on the windows of your home, but don't do any effort to clean it because of a busy and hard life and every single day you will leave this task on the other day and similarly the days passes and your windows never got clean. Don't worry our window cleaning experts will do this task for you. Just make a call at – 1-888-789-6222 for affordable Window Cleaning Vancouver. Our cleaning professionals work for both commercial and residential properties.
3) House Washing Service
House Washing is the task that may put you in trouble as your house might be accompanied by grim and tough dirt which is needed to be cleaned so that the value of the house can be maintained. The expert technicians of AdelCo Home Services can safely and efficiently clean the exterior of the homes in a single day. It really couldn't be any easier without professionals! Learn more about our House Cleaning Service in Vancouver and book your next appointment.
4) Roof Moss Removal
Is your roof covered with dark green-colored stuff? This is the moss that can eat up your roof and make your home look dirty from the outside. It grows between the shingles of the roof due to moisture present in the environment. There are two factors that decide the time of roof moss removal and they are – the size of the roof and the amount of moss, algae, and lichens present. We provide our services in Vancouver, North Vancouver, Burnaby, Fraser-Valley & Tri-Cities, etc. This is the best time for Roof Moss Removal Burnaby and other cities.
5) Pressure Washing Service
Want to make your home look its best? Then give a chance to our cleaning professionals that will make your house shine again with our pressure washing service. We will make sure that every corner of your house will be clean and you can feel fresh at your home. This is the best time to pressure wash your house to get the most out of it. Learn more about our residential pressure washing service and book your appointment now!
Conclusion
With every above-mentioned service, AdelCo Home Services is now offering 300 AIR MILES® Reward Miles when you spent $1500+ excluding taxes on our cleaning service. This is a great chance for you to accumulate a good amount of Reward Miles in your Collector account and get lots of stuff free. We ensure quality cleaning services and make you feel fresh at your old home. For any query call us at 1-888-789-6222
Enrollment in the AIR MILES® Reward Program
If a customer is not an AIR MILES® Collector, they may enroll in the AIR MILES® Reward Program by visiting airmiles.ca. By enrolling to become an AIR MILES® Collector you agree to be bound by the terms and conditions of the AIR MILES® Reward Program as amended from time to time.
®™ Trademarks of AM Royalties Limited Partnership used under license by LoyaltyOne, Co. and Adelco Home Services.