Home Sweet Home! Yes, there is no place in the world like your home. No matter how big or small it is, the point is how comfortably and peacefully you live inside. Having a well-décor home is a dream for everyone. You must know that only high fashioned beautification is not everything, looking after cleanliness and hygiene is also crucial. Well, what bothers you the most when it comes to home cleaning? Many people say window cleaning is one of the annoying tasks. Window Cleaning Vancouver and suburbs is not an easy task due to weather and many other reasons. That is why some renowned companies are now available with excellent services to erase all your concerns.
Window cleaning is a complicated task and trying to cleaning by you is right for casual dirt removal from the glass. But what about the channel rims, window sills, and external hygiene? Always take advice from experts to maintain the window beauty intact for years.
Know the do's and dont's for window cleaning
Leaving in a metro city brings uncountable benefits. But there are also some problems alongside. Extreme pollution, dirt, snowfalls, rain causes window damage. Appoint a leading window cleaning agency to clean every part of your window especially external cleaning.
Window cleaning sounds casual, but it has a broad perspective. Nothing would be better than hiring an esteemed service provider for the task. Still, if you have the will to do it yourself to keep windows look stunning, then some guidelines must be followed: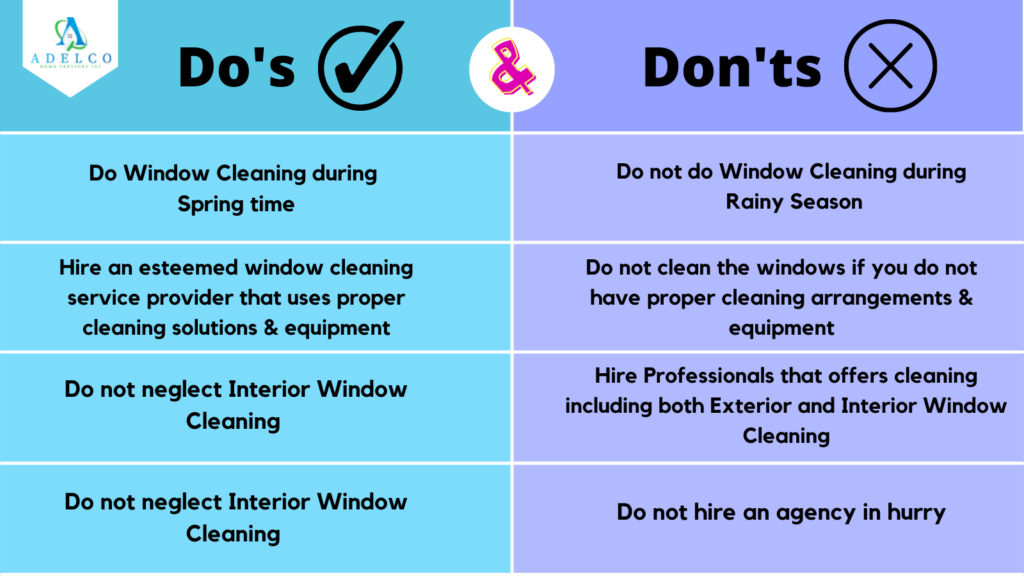 Do not neglect the interior cleaning importance. Casual washing of inside portions by oneself is appreciable but you cannot do it like experts. So, when the exterior looks polished, the interior may look dull compare to this. If you decided to appoint a company for exterior cleaning, then just take the package that includes the interior also.
Do not try to be an expert and clean the windows entirely by yourself. A window has many parts, excluding glasses. Generally, people think removing dirt from glasses is sufficient. But the panel rims and window sills play an equally important role. If you do not have proper cleaning arrangements and equipment for cleaning different parts, then contact an esteemed window cleaning service provider.
Do it during springtime and avoid it in the rainy season. Yes, considering spring is the right time for cleaning windows, one must appoint expert cleaners. During this season, the weather remains pleasant and cleaning becomes faster and easier. Although during hot sunny days, cleaning is not a wise idea the same as rain. During the rainy season, there are multiple obstacles. Sometimes, if the windows are cleaned using a solution, the glossy effect may fade faster due to rain.
Do the cleaning by appointing a professional agency. In metro cities, pollution and dirt are higher that need to be cleaned regularly. The grime also makes the windows obscure, and with the water vapor of rain and snow, it becomes shabby. Moreover, if there are trees around, then fallen leaves, birds excrete are issues that need to be removed periodically.
Do the window cleaning regularly for healthy living. Skilled staff cleanses using proper solution and equipment that cleanse windowpane and frames which allows appropriate airflow inside. Sunlight entrance is also vital. So, for the refreshment of the interior and keeping the gorgeousness of exterior, the expert supervision is required.
Do not hire an agency in a hurry. You must have patience and contact few leading companies. Select the suitable one considering your requirements and budget.
Window Cleaning Vancouver and its surrounding area are provided by top-notch companies with honesty and high quality. Thus, have a fantastic and health-friendly ambience and let your home breathe with freshness.
About Author