What do you think would be better for your home – Pressure Washing or Soft Washing in Vancouver areas? Both are the two most common and highly effective techniques for cleaning the exterior of a home. It not only removes the dust, fungus, and algae but also makes your home awe-inspiring. You can make it feasible for appreciation and ultimately you will feel good by living in such a clean and beautiful home.
Cleaning the exterior of the house requires some professionals to clean it with full safety without causing any damage to yourself and the property. A rented ladder and a borrowed pressure washer from your neighbors or local shop can not give you all the tools that are necessary to clean the house. It is a great possibility that you might harm your body party as you are not an expert in performing these tasks. So, think of your and your home's safety rather than thinking about money. And you will be surprised to know that Pressure Washing Vancouver do not cost you much they have a very fair price for their service that you can easily afford.
Pressure Washing
Power Washing is an extremely effective home cleaning solution to various surfaces of your home. It is the best way to clean the surfaces clean easily and quickly without wasting too much time. The pressure of the water is tremendously high that it may even cut your finger badly. A high water spray will remove dirt, dust, grime, stains, salt, and other elements but it may pose some risk of damage to your property. One of the bluntest mistakes is using pressure washing on vinyl siding as it can remove the protective layers from the walls which is not a good thing to happen.
Pressure washing can be done with hot water as well as cold water. Hot water has the ability to remove the contaminated dirt more quickly as compared to cold water. All the exterior surfaces like – siding, gutters, decks, concrete sidewalks and driveways, fences, retaining walls, etc. can be cleaned with pressure washing. Don't hesitate to hire an expert pressure washer when you are looking to do Pressure Washing North Vancouver.
Soft Washing
In Soft washing, water runs through a pump by applying little pressure. This system generally consists of a high volume of water instead of highly pressurized water being sprayed from the hose. It can remove the same amount of dirt as pressure washing. But unlike pressure washing, it avoids any damage to your home or property.
Soft washing uses a high concentration of chemicals but they are not harmful for your home as well as the environment. The chemicals are needed because of the low pressure of water used to clean the surfaces. It uses formulated detergents and "dwell time" to clean those surfaces. After the dirt gets loosened on the surface by applying the chemicals the soft washer will clean the dirt from the surfaces quickly and easily.
There is more advantage of soft washing i.e. it maintains paint and masonry longer unlike pressure washing. It also protects the structural integrity of the house and keeping it safe for your family.
Quick Comparison between Pressure Washing & Soft Washing
Below is the quick comparison that must be known to every individual and choose the right cleaning technique accordingly.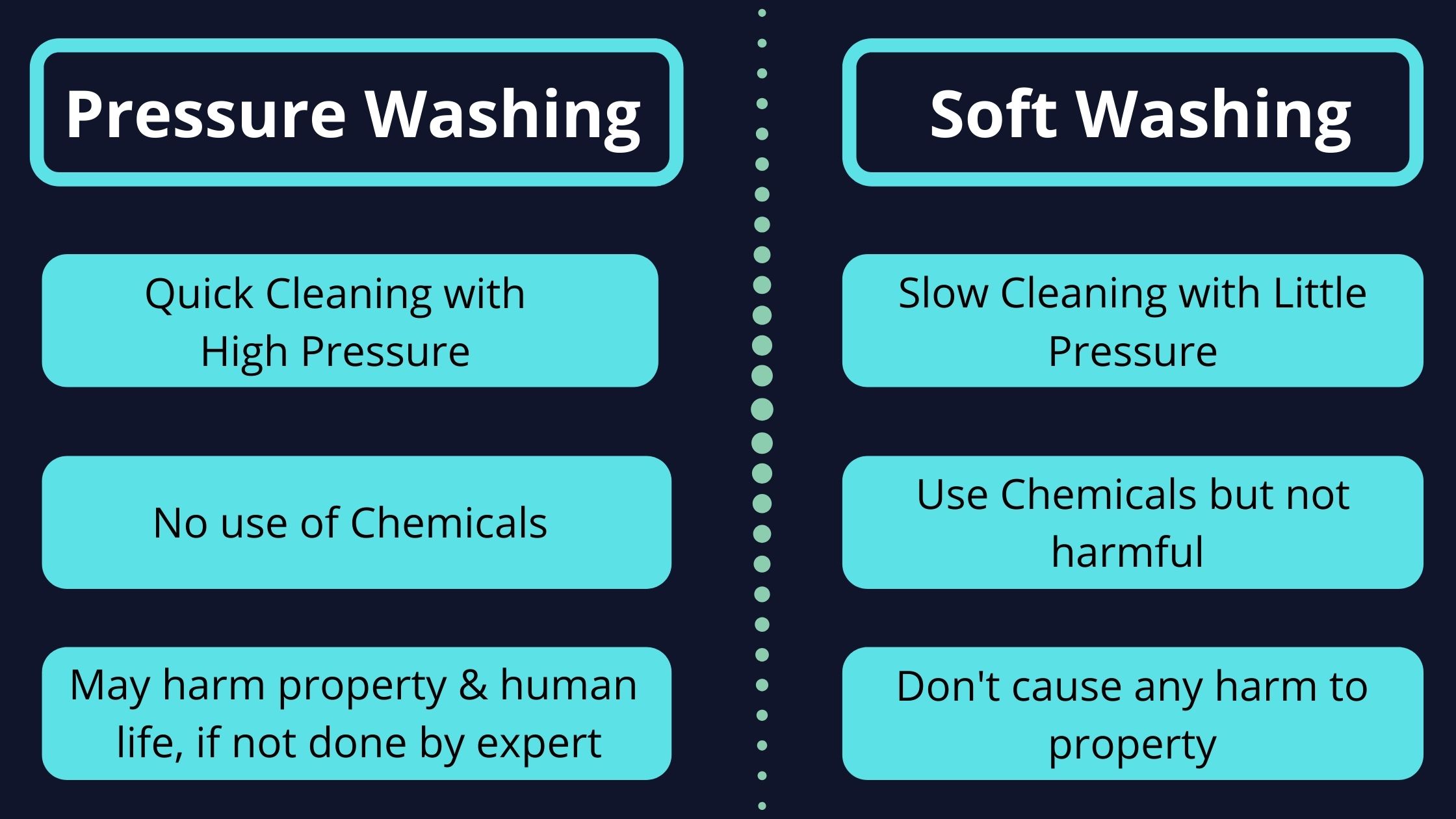 Conclusion
From the above blog, you can understand the difference between pressure washing and soft washing. Soft washing is a delicate process as it is based on the spray-and-kill approach. It can be applied to a variety of surfaces that includes – stucco, asphalt shingles, wood fencing, wood decking, vinyl, and cedar shake, etc. and on these surfaces, pressure washing is not the right approach. Last but not the least, when it comes to choosing between pressure washing and soft washing then make a decision based on the surfaces that you are going to clean. For any query and professional pressure washing service contact us anytime.
About Author