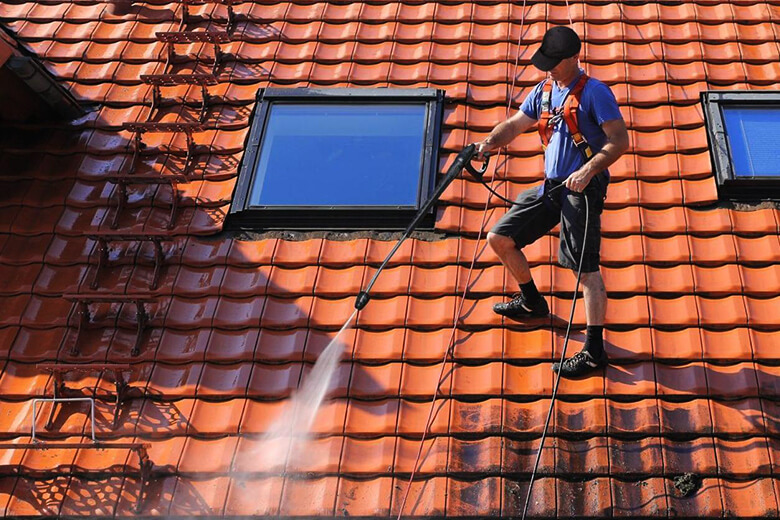 Roof Cleaning Abbotsford
Dirty Roof? Let our bubbles restore your Roof's sparkle
OR

Fast, quality and affordable roof cleaning in Abbotsford
Roofs are essential to all building primarily because they protect buildings from harsh weather and also because they beautify our building. We cannot do without them. In fact, your building is incomplete without one.
As such, roof maintenance is essential to overall building maintenance. It is easy to neglect roof maintenance, mainly because we don't see the reason to invest in roof maintenance heavily.
We'd rather clean our walls and floors; however, your roof is an integral part of your building just like your floors and walls and requires an equal magnitude of maintenance. Your roof places a vital role in your building, so its maintenance is equally as important.
Roof cleaning is one of the essential forms of roof maintenance. Are you in Abbotsford? Do you need to clean your roof? Look no further; we at AdelCo Home Services are capable and well experienced in the field call us today for efficient roof cleaning.
Professional Roof Cleaning in Abbotsford
We have professionals on the ground who can wash your roofs entirely. Our professionals specialize in all form of roof cleaning and can guarantee you of quality service.
Our professionals use the best technologies and equipment to clean your roof, leaving it spotlessly clean. Our experts implore the most effective method suitable for cleaning your roof after carefully analyzing your situation. Our professional would listen to your demands and relate to your situation entirely because they are experienced in the field.
Our professional roof cleaners would clean your roof better than you imagined it while keeping their prices inexpensive, so you get quality at affordable rates!!
Our Service Areas:
Not only in Burnaby, but we serve a majority of service areas in British Columbia. You can find us for roof cleaning or Roof Moss Removal in: